CLASSES / WORKSHOPS
Individual/Group



Group Classes At D'Leedon open in February
Small class size up to 6 pax!

Monday/Wed : 8-9PM
Tues/Thurs: 10-11AM

Fern Yoga Therapy (Individual) @ Serangoon Gardens/ Clients' Venue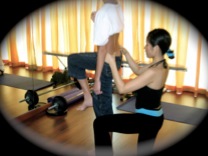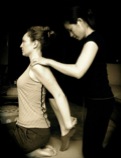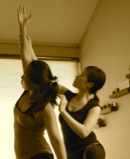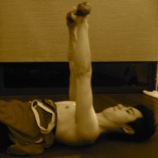 Integrative Structural Yoga Therapy combines multi-disciplinary benefits from Yoga, Pilates, Physical Therapy, Orthopedic Manipulation, Aromatherapy and other healing techniques obtain musculo-skeletal balance, to reduce and eliminate chronic pain and achieve general well being.

The recommended 10 session program (up to 3 months) is custom tailored to each student after a series of consultations which include interviews and physical assessment, during which the individual's nature of pain, joint stability, ranges of motion and muscle strength/weakness are determined. A specific yoga practice is then designed, monitored and adapted throughout the course of therapy to achieve optimum results.The client are expected to have consulted with doctor before.


Program Description
The recommended program lasts up to 10 sessions over 3 months . Candidates are advised to meet up with therapist at least once a week and commit to additional self-practice of 30 minutes / day three times a week. You can also opt for single sessions.

Program steps are:
Initial Intake, Range of Motion and Muscle Strength Assessments.
Initial findings and Practices with detailed explanations
Reassessment to check improvement. New Recommendations and Practices
Home practices given (packages only)

Fee
Initial Consultation (30mins) - FREE : to understand more about Fern Yoga Therapy, how it works and if it is suitable for your condition.

Therapy course of 10 sessions (1-hr per session): SGD 1500 (with personalised exercise sheet for home practice)

Fee is subject to change without prior notice.
Venue: Serangoon Gardens or on demand

Home-based or corporate sessions are available with additional charge ($20-$50)



***Contact Fern for Free Initial Consultation***


Yoga Therapy for Upper Back, Neck and Shoulders (group) @ Serangoon Gardens
Upper back and neck and shoulders pain has been the most common reason for FernYoga Therapy. With the increasing use of hand phone, laptops, computers, desk jobs, sedentary nature of work and bad postures, it is hard not to feel stiffness, arches and pains. FernYoga exercise program aims to relieve stiffness and pain, increase strength and flexibility as well as improving posture awareness. This small-sized class is therapy focused and it is suitable for all. Fee is $45/1hr group class. Individual $140/Session.

Home-based lessons are TBA


Yopga Therapy for Lower Back, Hips and Knees (group)@ Serangoon Gardens
Lower Back pain is another common complaints nowadays. At FernYoga, It is the second reason for therapy sessions. Infused integrative techniques of pain relieving are used to reduce/eliminate pains. Therapist will closely watch and suggest suitable variations of exercises in order to obtain the most benefits from 1 hour class. Clients are expected to feel better after class. a great sense of joint freedom and muscles awakening. After pain has subsided, more toning and strengthening of muscles and dynamic exercises will be introduced, subject to members's requests. This small-sized class is very therapeutic in nature and it is suitable for everyone. Fee is $45/group class. Individual140/session.
Therapy individual Consultation
Integrative Therapy has shown to be effective in reducing and eliminating chronic pain which doctors can't help. It aims to obtain hereunder objectives:

Releasing/ Eliminating Pain

Freedom of Joints
Releasing Tight Muscles and Strengthening Weak Muscles
Structural Stability and Musculoskeletal Balance
Better Range of Motions and Posture Alignment
Better Health
Lower Back Pain (2 hours)

Lower Back Pain is an enormous problem in this modern age. Common causes of low back pain include lumbar strain, musculoskeletal imbalance, weight bearing during pregnancy, conditions of the bone and joints, lifestyles and stress. Clearly there is a need for a better way to reduce and eliminate this debilitating condition.

What you will learn:
Idea range of motions versus your range of motion
Muscle anatomy
Which muscles are tight/ weak?
How to practice safely without pain
Postures to target specific problem areas
Breathing techniques


Joint Mobility Workshop (2 hours)

Joint Mobility Sequence helps to relax, distress and decompress the joints from top to toes while increasing joint mobility, flexibility, muscle tone and strength.
It is gentle exercise as such suitable for everyone from arthritis patients to athletes. Easy home practice that takes only 30 mins to perform is given.
Registration closing date: TBA
What you will learn:
Idea range of motions versus your range of motion
Yoga anatomy,
Which muscles are tight/ weak?
Muscle Imbalance
How to practice safely without pain
Breathing techniques


Other Therapy Workshops:
Sacroiliac Joint Dysfunction
Upper Back Pain
Hip Pain
Knee Pain
Posture Enhancement
Yoga at Work/ Chair Yoga

Workshop Duration : 2 hours
Fee: $85/ participant
Booking Deadline: TBA

SINGLE CONSULTATION (Individual) from $190 (2 hours)

Package of 10sessions: $1500


OFFICE/HOME BASED SELF ORGANISED WORKSHOPS from $ 250(2 hours)- Subject to pax


Yoga for Body Alignment ( see Integrative Yoga)
This yoga class is focused on achieving proper body alignment. Poses are held for longer periods of time and the movement from one posture to another is slower than some other styles. Since it focuses so much on correct body alignment, it is also a good starting point for beginners before they move into faster paced styles. This class is suitable for all levels. Fee from $45/session



Venue: Serangoon Gardens or Home Visits
Yoga Flow/Power Yoga (popular)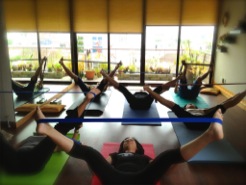 YogaFlow is characterized by the practice if a series of Yoga poses and accompanied by riding the breath in order to flow from one pose to another. Each Posture is started slowly with focus on body alignments and moves on to slightly fluid movements and even dynamic movements of power yoga with respect to readiness of participants. It provides a wonderful workout for the mind and body. It is very effective program to build strength and stamina, improve your ability to focus, release tension, and tone the body in a very short time. It is suitable for even beginners. Small group size up to 10 pax!


Venue: Serangoon Gardens or home visits

Fee from $45/session (subject to 10 sessions after a paid trial)
Power Yoga ( see Yoga Flow)
Power Yoga is characterized by the practice of a series of Yoga Poses accompanied by Vinyasa or riding the breath in order to flow from one pose to another. It is a vigorous exercise that physically and mentally challenges. Poses are done in a fast pace. Power Yoga sessions are designed to build strength and flexibility, improves your ability to focus, release tension, increase stamina, tone your body and remove toxins from your body through sweat. The poses involved are linked on the backbone of Sun Salutation so beginners should be familiar with this Yoga Exercise. Power Yoga should also be practiced by people who are physically fit and not suffering from chronic ailments since Power Yoga Sessions are dynamic and not gentle.
Yogalates/ Integrative Yoga (strongly recommended, suitable for all levels)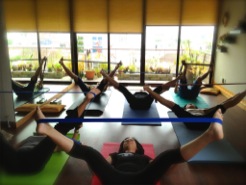 Yogalates/Integrative Yoga is a complete and comprehensive fusion of Yoga and Pilates. Particular attention is paid to improving body alignments, building strength and endurance in the body's core postural muscles. This promotes "core stability" which enhances spinal/pelvic awareness, protecting the spine against injury while supporting the internal organs and promoting good posture. The Pilates thoracic (chest) breathing is incorporated during execution of exercises to help increase lung capacity and enhance stamina and endurance. This breath activates the abdominal and pelvic floor muscles helping to protect and strengthen the lower back, tone the belly, trim the waist and assist with core stability. Yoga Pranayama breathing techniques are also introduced during sessions. From $45/1hr session

Venue: Serangoon Gardens or Home Visits
Prenatal
Prenatal yoga exercises encourage stretching, mental centering and focused breathing. Prenatal yoga is safe from second semester and can have many benefits for pregnant women and their babies. It helps to reduce stress, improve strength and flexibility of muscles needed for child birth. Fee is $140/1 hr session, subject to 10s course. Individual class is recommended.



Post-natal
This class focus on toning pelvic floor muscles, strengthen abs, back and shoulder while de-stressing the body and calming the mind with breathing techniques. Recommended 6-8 weeks after child birthFor individual or private groups only. Fee is from $140/s subject to 10s course
*** HOME VISITS ARE AVAILABLE FOR ALL CLASSES/WORKSHOPS***

Individual Integrative Structural Yoga Therapy /Private Classes ranges from $150 per 1 hour session.
Yoga / Pilates Group Class packages start from $400 for 10 sessions
Home Visits starts from $150 per 1 hour session
Fee is subject to change without prior notice.