CLASSES / WORKSHOPS

*NEW GROUP CLASS *

Tuesdays, Thursday
10-11AM

Fridays
6-7PM



Fern Integrative Therapy (FIT)- Individual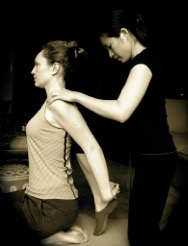 Fern Integrative Therapy (FIT) combines multi-disciplinary benefits from Structural Yoga Therapy, Pilates, Physical Therapy Techniques, Orthopedic Manipulations, Aromatherapy and other healing techniques to reduce and eliminate chronic pain, obtain musculo-skeletal balance and achieve general fitness and well being.
The recommended program of 10 one-to-one sessions is custom tailored to each individual after a series of consultations which include interviews and physical assessment, during which the individual's nature of pain, joint stability, ranges of motion and muscle strength/weakness are determined. A specific yoga practice is then designed, monitored and adapted throughout the course of therapy to achieve optimum results.The client are expected to have consulted with doctor before a therapy session.

Program Description

The recommended program lasts up to 10 sessions over 3 months . Candidates are advised to meet up with therapist at least once or twice a week and commit to additional self-practice of 30 minutes at least once a week.

Program steps:

Initial Intake, Range of Motion and Muscle Strength Assessments.
Initial findings and Practices with detailed explanations
Reassessment to check improvement. New Recommendations and Practices
Home practices given after session 5th.


Fee

Initial Consultation (30mins) - FREE
Trial: S$140/1hr session

10 session program: from S$1400

Yoga Therapy on Zoom is available at S$1200/10s


Venue: Serangoon Gardens or home visits

***Contact Fern for Free Initial Consultation***
Boutique Yoga Pilates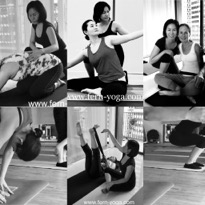 This is the signature client-centred program of Fern Yoga. A highly customised integrative approach is based on combinations of Structural Yoga Therapy, Yoga, Pilates, muscular healing techniques and aromatherapy. It aims to address immediate concerns, specific needs and longer term objectives given by discerning clients at the beginning of each session which is uniquely developed and adapted to the client's preferences, readiness, energy and mood levels. Whether you are experiencing discomfort, muscle tightness, poor posture, fatigue, stress or simply looking for a way to shake off your calories, Boutique Yoga Pilates is for you. Recommended for individual or small private group.Fee: From $140/1 hr session, based on 10 session course. Virtual Session is available
Venue: Serangoon Gardens or home visits
Pain Relief Session
This 1-hour session is designed to address discomfort, tightness, muscles aches, dull pain at the neck, shoulders, back, hips areas. Several muscle therapy techniques and gentle yoga stretches are infused in order to obtain the instant effectiveness. After the session, you will likely feel calmer, more relaxed, or even pain free. Not suitable for acute injury, or nerve impingement. Fee is at S$160/s

Venue: Serangoon Gardens or home visits
Posture Awaress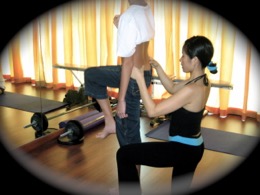 Slouching, carrying heavy school bags, long hour desk work, sedentary life style likely lead to Poor Posture, which, in a longer term, may lead to discomfort and pain. During this session, you will be introduced different types of postures and how best to execute yoga poses in order to re-align your body without causing pain, discomfort or injury. With good posture in holding and transitioning poses, you will obtain healthier body, a natural and beautiful look and a great sense of freedom in movements and daily activities.This session is strongly recommended to school age children (teenagers), adults who would like to improve posture.This single session (S$160) lasts 1hour.
Venue: Serangoon Gardens or home visits
Yogalates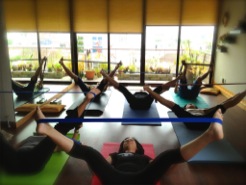 Yogalates is a complete and comprehensive fusion of Yoga and Pilates. Particular attention is paid to improving body alignments, building strength and endurance in the body's core postural muscles. This promotes "core stability" which enhances spinal/pelvic awareness, protecting the spine against injury while supporting the internal organs and promoting good posture. The Pilates thoracic (chest) breathing is incorporated during execution of exercises to help increase lung capacity and enhance stamina and endurance. This breath activates the abdominal and pelvic floor muscles helping to protect and strengthen the lower back, tone the belly, trim the waist and assist with core stability. Yoga Pranayama breathing techniques are also introduced during sessions.
Fee is from $45/1hr session. Subject to 10 session course.


Venue: Serangoon Gardens or Home Visits.
Yoga Flow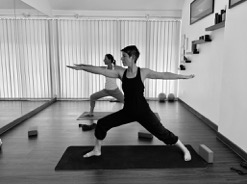 YogaFlow is characterised by the practice if a series of Yoga poses and accompanied by riding the breath in order to flow from one pose to another. Each Posture is started slowly with focus on body alignments and moves on to slightly fluid movements and even dynamic movements of power yoga with respect to readiness of participants. It provides a wonderful workout for the mind and body. It is very effective program to build strength and stamina, improve your ability to focus, release tension, and tone the body in a very short time. It is suitable for even beginners. Small group size up to 8 pax. Fee is from $45/1hr session. Subject to 10 session course.


Venue: Serangoon Gardens or home visits
StretchFIT

At slower pace, this class focuses on deep breathing, stretching, moderate toning and relaxation.

Recommended for Beginners. Suitable to all levels.


Fee: From $45 per 1hr class. All Subject to 10 lesson course.


HOME VISITS ARE AVAILABLE FOR ALL CLASSES/WORKSHOPS

Individual Therapy /Private Classes ranges from $140-$150/1hr

Group Class packages start from $450/10 sessions (up to 8 pax)

Home Visits start from $150 /1hour session


Fee is subject to change without prior notice.

******