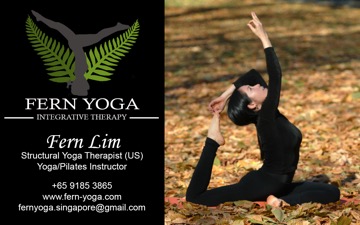 Fern, MBA, is the first certified Structural Yoga Therapist in Singapore, a leading teacher of various yoga forms, a practitioner of Therapeutic Yoga, a Pilates teacher, and a

Yogakids associate. She began exploring yoga in 2000 when she was seeking answers to the various forms of pain that she suffered since young. Her studies in Muscular Therapy, Pilates and Yoga forms such as Hatha, Ashtanga/ Power, Vinyasa, Iyengar and Structural Yoga Therapy infuse her approach to using Yoga-Pilates as both an exercise and a healing form. In addition, Fern incorporates elements of orthopedic manipulation techniques, bodywork techniques and aromatherapy as part of an integrated form.

Fern has enjoyed bringing the wholesome benefits of Yoga and Pilates through her teachings to communities in the USA and Singapore. As an independent therapist, she has conducted hundreds of yoga sessions, interweaving the practice of yoga, pilates with her therapeutic expertise to bringing health and relief to so many people. Fern has also brought YogaKids to schools in Cambridge, USA.

Fern attained a Diploma in Structural Yoga Therapy (700 hours) under the instruction of Mukunda Stiles in New York and Musculoskeletal Therapy in Alabama, USA. She is also under advanced training with Yogakids International, Atlanta, USA. She is trained in the art of Yoga instruction under the Shiva Yoga Kendra Institute, Chennai. She also received qualifications as a Pilates instructor with Pilates International, Australia. Fern has continued to improve her craft through classes and workshops with renowned yoga teachers such as Patricia Walden (Iyengar), Chuck Miller (Ashtanga), Tias Little, Gary Kraftsow, Judith Lasater (Yoga therapy) and Mukunda Stiles, a world-wide leader in the field of therapeutic yoga and the author of many books.


Fern Yoga on Youtube!

Abs and Thighs
https://youtu.be/KILeXYgSNuo

Headstand-Power of Core Stability
https://youtu.be/AhUmYKq5BFs